1. oct 07 - 4. oct 07
Healing of Memories - Reconciling Communities
Dublin, Ireland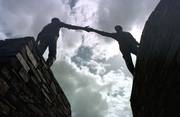 This international ecumenical consultation will assess best practices in dealing with large-scale crimes affecting entire nations or ethnic communities.
During the first days of October, some thirty international academics and reconciliation practitioners meeting at the Dominican retreat centre Tallaght, Dublin, will study the exemplary cases of Guatemala, Germany, South Africa, Cambodia, Northern Ireland. The aim of their work is a summary or manual that would help churches, civil society groups and policy makers to understand the needs and options of community healing.
The consultation "Healing of Memories - Reconciling Communities" is co-organized by the Irish School of Ecumenics and the World Council of Churches. It is part of the preparatory process leading to the International Ecumenical Peace Convocation in 2011.
To download the report of this coonsultation, click here.
More information on the International Ecumenical Peace Convocation
More information on WCC programme work on health and healing 
Website of the Irish School of Ecumenics
---