22.12.08 09:53 Antiguedad: 3 yrs
Reflections by Anam Gill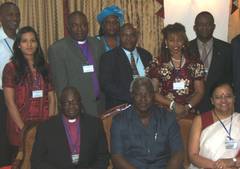 Being part of the Living Letters team to Sierra Leone and Liberia was an exciting and challenging experience.
We were exposed to the issues involved in the ghastly wars these countries went through and were still recovering. But among the people there was a mood of self-reliance.
Despite the challenges, Liberia and Sierra Leone are on the way towards a future of hope and promise as they are blessed with potent faith.
In Sierra Leone we met the UN representatives, the president of Sierra Leone, youth, women and men groups. They gave us a clear insight of what the churches in collaboration with the government are doing to rebuild Sierra Leone. The experience in Liberia was much the same.
The students at St Paul's seminary in Sierra Leone talked about the role of churches in sustaining peace and stressed that teaching of other faiths should be done to create tolerance. They presented us with their own declaration of peace which was commendable.
The women of both countries were of the opinion that there should be regional meetings and gatherings where women can collectively debate and draw conclusions regarding various issues they are facing.
Being in Sierra Leone and Liberia was a great learning experience. A youth from Pakistan which is a conflict zone though the context is different, I must say that many of today's conflicts are internal or civil conflicts or intra-national. There is a dire need of conflict transformation that goes beyond the concept of conflict resolution in that it requires a transformation of the parties, their relationships to each other, and the underlying structural elements of conflict.
These relationships and social structures are often unjust and unequal and transforming conflict seeks to alter these structures in ways that build a more just society.
As Martin Luther King said "Peace is not the absence of war but the presence of justice." Signing a declaration on just peace is a step towards building peace within countries and the world at large.
This visit has indeed made us see the true picture of the post war situation of Sierra Leone and Liberia. And keeping the fact in mind that recently there was tension in the country and a war broke out, both the countries have moved forward towards a better future.
---