Youth Statement at the International Ecumenical Peace Convocation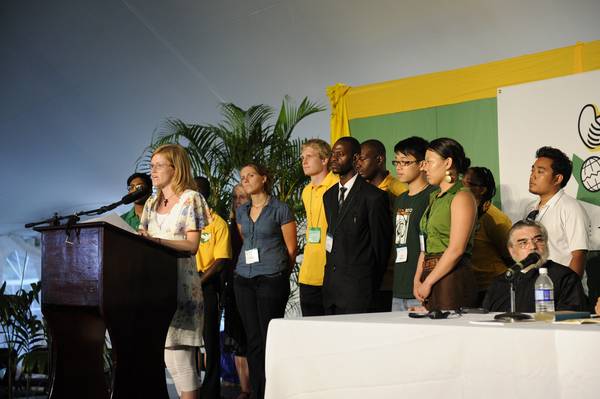 24 May 2011
Glory to God and Peace on Earth!
Two days before many of you arrived in Kingston, 95 youth met together for networking, community building, Bible study, prayer and reflection on the DOV and Convocation themes of peace in the community, with the earth, in the marketplace and among the peoples.
We have all come together and participated in the different elements of the IEPC. This reflection and our recommendations are expressions of the many discussions among youth throughout the week. We share this message with you, our fellow peacemakers, and we invite you to continue the conversation with the youth here and beyond - in your congregations and in your communities.

Youth participation and intergenerational dialogue
Just peace can be achieved only when we all work together. Here at the IEPC we have worked together across generations. We have thoroughly enjoyed the interactions with our brothers and sisters. In the future we would like to have even more opportunities to share our insights and interact with one another.
We rejoice that young people participated in this meeting in a wide variety of roles. Young people made up 12% of the participants. We thank those churches and organizations which have sent young people as their representatives and encourage all churches to meet the recommended 25% youth participation rate in the future. We also are looking forward to seeing young people as keynote speakers and panelists – sharing their experiences and expertise. We wish to journey towards Busan together, and greatly value the intergenerational dialogue which enables us to learn from each other and be creative.
Foundations
Churches provide a unique contribution to the work of just peace. We strive to follow in the footsteps of Jesus Christ. We affirm that God's word speaks to us and challenges us on the journey of peacemaking. We wish for our work of peace and justice to be rooted solidly in the Scriptures and in theological reflection. We want to commit to a continued reflection on the concept of Shalom.
Partnership
Youth organizations within the ecumenical movement share the vision of Christian unity. Relationships and partnerships make up the foundation of our common work. Therefore, we believe that it is imperative for the WCC, member churches and ecumenical youth organizations to deepen their partnerships and co-operation. Not only do we want to continue such togetherness, but we also want to develop a strategic way to take action in our local and global contexts.
We need strong support from our churches.
We need each other.
We must pray and work together.
Personal recommitment
After our time together, we are deeply inspired by the many stories that have been shared, such as the moving testimony describing the situation of the Dalits given by Asha Kowtal. As this meeting is coming to an end, we find that we are deeply grateful for the sharing and learning that will equip us to face challenges ahead. We encourage one another to continue with concrete actions for peace back home.
God of Life, lead us to justice and peace!