2008 DOV Annual Focus Theme on the Pacific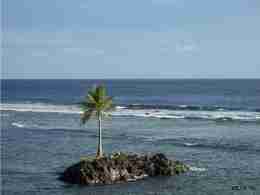 The DOV announces the 2008 Annual Focus Theme:  Witnessing to God's Peace.  The DOV invites Prayers for Peace for the International Day of Prayer for Peace, 21 September 2008
Download 2008 DOV Pacific Poster (1.3 MB)
Witnessing to God's Peace Events:
Pacific Stories of Peace Arts Competition

Invitation for Prayers for Peace
Pacific News Highlights
(From various local sources)
Nauru church leaders worry for island's future...[read more]
American Samoa states freedom of religion amid scientology campaign... [read more]
Warning anger protest over New Caledonia nickel smelter waste pipe could turn violent...[read more]
Activitst Held Over Protest for Tibet in Fiji...[read more]
Poverty Growing in Northern Marianas Island...[read more]
Self Starters Prove a Point in Vanuatu village...[read more]
International ecumenical team returns from solidarity visit to Sudan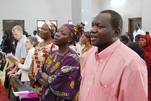 An international ecumenical team of church representatives returned from a solidarity visit to churches and ecumenical organizations in Sudan from 26 March to 2 April.  They shared many concerns and unease stories, but still filled with hope that the situation in Sudan will be resolved.
Read articles on our website...
WCC says Bon Voyage to Jenny Roske

After 24 years of service, WCC says bon voyage and Happy Retirement to Jenny Roske.
"As we I look back on all that's happened, growing together, changing the world-- there were times when we dreamed, when we laughed and cried together. As we look back on those days, and realize how much we will truly miss you.  The past may be gone forever..and whatever the future holds, our todays make the memories of tomorrow. So, our lifetime friend, we send you blessings during your retirement." - unknown author
Run4Unity in the Pacific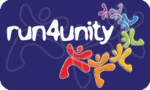 Saturday 10th May 2008, from 4pm to 5pm in each time zone, the Youth for Unity of the Focolare movement present the 2nd edition of the worldwide relay race "Run4Unity", a sports event to promote and build peace together.
After the first edition that saw the participation of over 100,000 teenagers in 340 cities of 89 nations, teenagers of many cultures, races and religions will run united once again in prominent and significant locations around the planet in order to symbolically extend a rainbow of fraternity over the world. Read more...
2008 Congress: Communication is Peace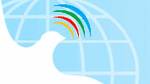 WACC's fourth global Congress on communication is scheduled for Cape Town South Africa, 6-10 October, 2008.  The five-day event focuses on the them Communication is Peace: Building viable communities and offers professional development and networking opportunities. Read more...
The bombs stop here: Surround the Base at Aldermaston
Easter Monday saw a lively demonstration against the development of nuclear weapons at the heart of Britain's nuclear weapons programme - the Atomic Weapons Establishment at Aldermaston. Five thousand joined the protest which, on the anniversary of the arrival of the first Aldermaston march, celebrated 50 years of anti-nuclear protest in Britain. Read more...
World Conference of Women's Shelter
Discovering the Common Core: Practical Frameworks of Change
In 2008, Alberta Council of Women's Council will host the 1st World Conference of Women's Shelters. This event will present a new opportunity for family violence workers in Alberta and around the world to learn from international experts and each other.  Too often, women's shelter work is overlooked in discussions on family violence, when in reality they are at the forefront of dealing with this issue. This will increase the capacity of shelters in Alberta, across Canada, and around the world to affect change in their organizations and their communities to better meet the needs of ethnocultural, multicultural and racial communities when dealing with family violence. Read more...
Youth Across Boundaries. Redefining the Culture of Peace
The Asia Pacific Student s and Youth Gathering (ASYG) is a regional platform where young people from various background, nationality, ethnicity gather together to learn, study and share their experiences and ideas of peace and peace-building in their communities and countries. The ASYG is a unique opportunity for young people to listen and learn from the experiences of other young people engaged in peace-building efforts and develop appropriate strategies in their own countries. ASYG is an initiative of young people coming from 6 ecumenical and Christian organizations composing the EASYNET (WSCF AP, CCA, IMCS, IYSC, AA YMCA, YWCA).
The ASYG Process (which includes the NSYG) will culminate in a Regional Gathering of about 150 youth and students coming from different countries, cultures, denomination and faith backgrounds around Asia Pacific in Seoul Korea this coming August 25-31, 2008. Read more...
Nobel Laureates Issue Charter for a World without Violence

"Violence is a preventable disease." So begins a ground-breaking effort by Nobel Peace Laureates and Laureate Organizations who met in 2007 and crafted a "Charter for a World without Violence." 
Download the complete document (162KB)
3rd International Salon for Peace Initiatives
The French Coalition for the Decade for the promotion of a culture of non-violence and peace is an association created according to the French Law of 1901, composed of sixty eight assocaitions and twelve local coalitions.  It is run by an executive board of eleven members and it is supported by an honorary board cmoposed of 130 personalitites from different fields.
It aims at favoring the passage from a culture of violence to a culture of peace and non-violence education in the school; the organization of the International Salon for Peace Initiatives; the animation of the Internationa Peace Day. Read more...
Interfaith meet urges church to play greater advocacy role in building peace
Council for World Mission.  An interfaith workshop on peace building has urged the church to take up the challenge of 'building communities of peace' in India's troubled north-east, Anto Akkara writes from Shillong. Read more...