Issue number 3, January 2002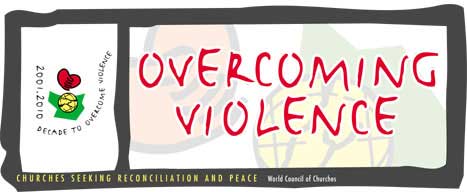 Beyond 11 September: questions and more questions
Editorial:
By Elizabeth Ferris, WCC International Relations team
Member of the Religious Society of Friends in the USA. Email: WCC Contact

For a moment, the people of the world seemed united in their expressions of horror, sympathy and outrage at the attacks of 11 September. Messages of condolences and solidarity flooded the airwaves from every corner of the planet. In spite of my horror at the attacks, I had a moment's hope that this tragic event could serve as an impetus for a new understanding of security, as an opportunity for Americans to critically re-examine their own history and as a rallying cry for addressing the causes which lead to terrorism. But the military actions of 7 October suggest that the world is moving in another direction.
We can't yet fully comprehend the nature of the changes which have been set in motion. Even as the Taliban appear to retreat, questions remain about the future of Afghanistan. Will sufficient humanitarian aid be delivered for the estimated 7 million people in desperate need of food assistance? Will a stable government be formed? What will these actions mean in Southern Asia? Will tension continue to increase between Christians and Muslims? Will churches rise to the occasion and become stronger as a result of their witness in these difficult days?
What will these developments mean for disarmament - and for global governance generally? While military decisions are being made by the United States and its coalition partners, will the UN simply be called in to pick up the pieces after the military action in Afghanistan is over, or will it have a broader role?

What do these events mean for the economy? World trade is decreasing, consumer spending is down, unemployment is soaring, and, as always, the poor suffer most. Will bilateral aid and international financial institutions increasingly use their clout for political ends - to reward coalition supporters - rather than to aid those most in need? What does this mean for globalization and for the anti-globalization movement?

The implications for human rights are frightening. New legislation in the name of security is weakening civil liberties in many countries. Xenophobia and racism are growing, complemented by the tightening of borders, suspensions of refugee resettlement and enhanced cooperation among security forces.

The mixing of military actions and humanitarian operations, previously seen in Kosovo and the Gulf war, have assumed new dimensions as aircraft from the same country drop cluster bombs and food parcels (which are even the same colour) on the same people. Refugees try to flee danger and despair but find closed borders and little assistance. For more than 20 years Iran and Pakistan have hosted over 3.5 million Afghan refugees with little genuine responsibility-sharing by the international community. Is it any wonder that those governments looked with skepticism on international pleas to open their borders? If refugees are able to return in the coming year, will the international community provide the necessary assistance to enable them to contribute to the re-building of their country rather than being another de-stabilizing force?

The haunting images of planes slamming into the World Trade Center on 11 September have become part of the world's collective consciousness. Two months later, it is clear that developments have been set in motion that will change our world in fundamental ways. These are truly uncertain times.

---
Quetta: a flashpoint of conflict
by Rainer Lang, Communications and Press Officer for ACT, who was in Pakistan from 4 to 20 October. Email: WCC Contact


Police checks in Quetta are thorough. The Pakistani city next to the border with Afghanistan is like a military encampment. Soldiers stand behind barricades of sandbags at all the intersections; police patrols are everywhere. The government is putting on a show of strength to prevent any further outbreaks of the kind of violence seen in recent demonstrations against the American-British attacks on Afghanistan. Christians, too, have been targeted by the demonstrators, and the city is a crucible of the many conflicts affecting Pakistani society.
The mood in Quetta is explosive and has been for some time - discontent is running high among the city's population.

Thabiba (12) and her brother making carpets in a refugee camp in Pakistan
More than half of the 1.5 million people living there are refugees from Afghanistan and they are in competition with locals for the few jobs available in a region which lives largely from agriculture and has been struck by a devastating drought for the last four years.

The refugees have been living here for many years and their camps have become part of the city. They are victims of one of the many conflicts that have torn Afghan society apart. One woman, Marium Gul, came to Quetta with her eight children at beginning of October. With her grandchild on her knee, she tells us how her family crossed the border on foot, trekking through the mountains on paths used by smugglers. Two months ago, Marium told us, the Taliban set fire to her family's house. After that they had lived in a tent, before fleeing to Pakistan.
Marium is a Hazara, an ethnic group living mainly in central Afghanistan that makes up about 30 percent of Afghanistan's population of 25 million. The Hazara speak Persian and belong to the Shi'ite minority. They are systematically persecuted by the Taliban, who belong to the Pashtun clan and are Sunni. Before the bombing raids, around 2500 refugees, most of them Hazara, crossed the border to Pakistan illegally every day. They all tried to find accommodation with relatives and friends in the existing camps, which have become more and more overcrowded. Marianne has to share a room with no running water or electricity with 40 other people.

Marium Gul with her grandchild
More than 2 million refugees from Afghanistan are living in camps in Pakistan. Many have been there for years, driven out by a devastating three-year-long drought and by more than two decades of violent internal conflicts. Until a few weeks ago they were largely overlooked by world opinion. Aid money was almost non-existent and that seems likely to remain so, because the donations which are now coming in are intended for the new waves of refugees that are expected.

In the existing camps, the children are the ones suffer most from the harsh poverty that prevails. Fourteen year-old Ajmal, for example, like many of his friends, works 12 hours a day, knotting carpets. Everybody knows that the carpets are made by children. "This is what happens when families are forced into poverty," says Marvin Parvez of the National Council of Churches. Twelve year-old Thabiba started making carpets when she was three years old and has never gone to school.

Since the bombing started, members of other tribes are crossing border as well as the Hazara. In Quetta, the authorities are afraid that the new arrivals and the Hazara will form an explosive mix that could lead to new outbreaks of violence in the camps. Here, as elsewhere in Pakistan, members of the Christian minority live in constant fear of attack. The National Council of Churches estimates that around 4 million Christians live in Islamic Pakistan - a tiny minority among a population of 140 million. Many fear that the conflicts in Afghanistan could create an unbridgeable divide between Christians and Muslims. "Whenever there is a demonstration we are afraid that the protest might suddenly turn against us," says Richard Donaldson of the Church of Pakistan. Yet relations had improved in recent years. Despite some discrimination, Humphrey Peters of the Church of Pakistan in Peshawar believes the attitude to Christians in the country is generally much better than it was some years ago. He is counting on dialogue between Muslim and Christians.

Peters points to the fundamental problems of Pakistani society: rapid population growth, high unemployment - around Quetta, for instance, because of the drought, there is almost no work to be found - an illiteracy rate of more 70 percent, discrimination against women, widespread drugs trafficking, more than 2 million refugees from Afghanistan, the ongoing dispute with India over Kashmir. All these factors will have to be dealt with if the society is to develop peacefully.
---
WCC congratulates Kofi Annan and UN on Nobel Peace Prize award
Following the announcement that the Nobel Peace Prize had been awarded to the United Nations and its secretary-general, Kofi Annan, the World Council of Churches (WCC) on 16 October sent a congratulatory letter to Kofi Annan and to UN Staff Committee president Rosemarie Waters. In the letter, WCC acting general secretary Georges Lemopoulos lauds Kofi Annan for his "wise leadership" and skills as a "global mediator, negotiator, peacemaker and guardian of the international rule of law". The letter also thanks UN staff at all levels for their dedicated work and for their part "in seeking to embody and give life to the aspirations of the Peoples of the United Nations". The full text of the letter is available on the WCC website at
http://wcc-coe.org/wcc/what/international/nobel.html

---
ADDRESSING THE ISSUE OF VIOLENCE AGAINST PEOPLE LIVING WITH HIV/AIDS IS NOW A PRIORITY
One of the greatest challenges in mounting a meaningful response to the HIV/AIDS epidemic is to address the issue of violence against people living with HIV/AIDS. This violence often manifests itself in social stigma and discrimination.

Unlike other major diseases, HIV/AIDS elicits a value judgment that carries an instant stigma against people living with it. Feelings of shame engulf those infected with the virus.

It is widely acknowledged that relevant, accurate and appropriate information is a key tool in the campaign against the AIDS pandemic, but much of the discussion and propaganda over recent years focused on condoms and adolescent sexual behaviour, whereas other core issues - like violence - were not dealt with.

Marginalization, whether resulting from ethnicity, mobility, occupation, cultural practices, racism, or sexual orientation determines vulnerability to the disease, and poses even greater challenges in terms of interventions to curb its spread.

Speaking at a recent WCC-sponsored global consultation on "The Ecumenical Response to the Challenge of HIV/AIDS in Africa" on 25-28 November 2001 in Nairobi, Kenya, Rev. Canon Gideon Byamugisha of the Anglican Church in Uganda said: "It is now common knowledge that in HIV/AIDS, it is not the condition itself that hurts most (because many other diseases and conditions lead to serious suffering and death), but the stigma and the possibility of rejection and discrimination, misunderstanding and loss of trust that HIV-positive people have to deal with."

Part of the problem lies in the manner in which HIV/AIDS was first "packaged" and presented to the public. That the language initially adopted was prejudicial is now largely admitted.

"If we were not crushing, combating, fighting or otherwise warring with AIDS, we created fear. Then people became defiant and finally rebelled," said Kenneth Ofosu-Barko, UNAIDS head in Zambia at the 13th International AIDS Conference held in Durban, South Africa in June 2000.

Although more people are coming out into the open about their condition, and managing to live positively with AIDS, this is a relatively new phenomenon in Africa.

Africa as a whole has not yet benefited from the kind of free, frank and open-minded public discussion that has helped countries like Uganda reverse the destruction wreaked by AIDS.

In committing themselves to a Plan of Action for an Ecumenical Response to HIV/AIDS in Africa, churches represented at the Nairobi consultation pledged themselves to speak the truth, and to overcome their own fatigue and denial of the problem, and of people living with HIV/AIDS.

---
Inter-faith dialogue is important Tanzanian president emphasizes
Addressing over 100 delegates on "Challenges to governments in overcoming violence: an African contribution" during a 6-10 October 2001 Decade to Overcome Violence celebration in Moshi, Tanzanian president Benjamin Mkapa said that there has been much ignorance about other people's faiths, and little willingness to team up.
Pointing to the need for inter-faith dialogue, Mkapa said such dialogue reveals "that there is more that is common to all religions and sects than there are differences". One way African governments can help overcome violence, he suggested, is to promote greater understanding between people of different faiths and different social and cultural backgrounds.

More generally, African leaders must put in place sustainable institutions, policies, strategies and processes for good governance by creating systems that guarantee equality of opportunities before the law.

Violence has no colour, race, religion or tribe, Mkapa stressed. Rather it is caused when one group considers itself superior to another. Referring to the September 11 events in the United States, Mkapa said the responsibility for such attacks should be ascribed to the perpetrators and not to their religion, tribe or race.

In conclusion, the Tanzanian president challenged developed countries to take a look at their own societies and assess how the rest of the world perceives them. "Do they see true Christian values of charity, of help, of love and of compassion?" he asked.
---
Joining hands as a sign of peace
| | | | | |
| --- | --- | --- | --- | --- |
| | | Over 700 people gathered in the streets of Schwamendingen, Zürich, Switzerland on 17 September 2001, to form a one-kilometer-long human chain as a symbol of peace under the theme: Peace is ten times cheaper than war. "This symbolic action marks the beginning of the World Council of Churches Decade to Overcome Violence: Churches Seeking Reconciliation and Peace and the United Nations | | |
| | | | | |
International Decade for a Culture of Peace and Non-Violence for the Children of the World", said Reverend Hans-Peter Geiser, the organiser of the project.
For more information contact:
hpgeiser (at) swissonline.ch
---
Peacemaking - our shared ministries
"Theology and Culture: Peacemaking in a Globalized World" was the theme of a theological consultation held from 25-29 June, 2001 in Bienenberg, northern Switzerland, organized by members of the "historic peace churches" - Quakers, Church of the Brethren, and Mennonites - as a contribution to the Decade to Overcome Violence (DOV). One major outcome of the meeting was a study paper entitled "Just Peacemaking: Towards an Ecumenical Approach from The Perspective of the Historic Peace Churches" drafted in response to the 2001 WCC Central Committee Study document entitled "Endangered Populations in Situations of Armed Violence:Towards an Ecumenical Approach"

The consultation sent an open letter to the historic peace churches and to other Christian bodies which share and affirm these churches' values. The letter, entitled "Peacemaking - our shared ministries", confesses and challenges the churches to overcome complacency and insensitivity to expressions of violence around the world. It outlines commitments and suggestions to and for the Decade, and calls for future consultations of a similar nature.
For more information see: http://www.peacetheology.org
---
Violence is a major public health issue
By John M. Grange, visiting professor, Centre for Infectious Diseases and International Health, University College, London
Email: sophia (at) hagia.freeserve.co.uk

The World Health Organization (WHO) defines health as "a state of complete physical, mental and social well-being". Implicit in this definition is the total incompatibility of health and violence. In 1997, the World Health Assembly emphasized the importance of violence as a public health issue and endorsed a plan of action to define the extent of the problem and to develop interventions.

Resulting from this initiative, the WHO will, during 2002, publish the first World Report on Violence and Health in order to raise awareness of violence as a global public health problem, and to highlight the role of public health workers in understanding and responding to violence, and to empower them to prevent violence.

In addition to direct injury, the indirect impact of violence and conflict on health is enormous. For instance, in Africa, many more people are killed by malaria in the aftermath of conflict and war than as a direct result of conflict, with devastating human and economic consequences.

Illness may be the cause as well as the result of violence. Thus, not only may women become infected by HIV as a result of violations of their sexual rights, but many - around one-fifth of HIV-infected women the USA and Kenya - experience violence as a result of their infected status. Indeed, the WHO has stressed that violence is a serious cause of ill-health among women world-wide.

It is therefore clear that violence and conflict are major causes and consequences of poor health. Indeed, a vicious cycle of violence, poverty and illness exists in many parts of the world. Involvement of health care workers and national and international health-related agencies in the WCC Decade to Overcome Violence could therefore have an enormous impact on global health and contribute much towards the WHO goal of "Health for All".
---
Boarding a peace train in war times - a sign of hope and protest against violence
Students of the Hillview Secondary School in Durban, South Africa, and from the John F. Kennedy (JFK) Secondary School in Brunswick, Germany, came together in a novel way as part of a youth exchange programme supported by the World Council of Churches' "Peace to the City" network: together they boarded a "Peace Train" travelling from

"Peace train" students from South Africa and Germany
Amsterdam to Berlin to overcome racist attitudes and violence among young people.The students actually took both trains and buses from Amsterdam to Brunswick. On the way, they visited sites where peacemaking and conflict resolution have taken place, such as the Anne-Frank-House in Amsterdam, but also the former concentration camp of Bergen-Belsen.

In a series of workshops, the students dramatized their different experiences of violence, and these sketches were performed in different cities along the way to Brunswick.

For more information contact: kjburck (at) aol.com

---
Rio De Janeiro limits sale of small arms
Viva Rio, a World Council of Churches' "Peace to the City" network partner in Brazil, has launched a grassroots campaign to collect 1,300,000 signatures in support of proposed legislation to severely restrict the sale of small arms to civilians.
The draft law is currently being discussed in Brazil's senate.
In June 2001, the Rio de

Police in Rio de Janeiro destroying firearms
Janeiro state government in partnership with Viva Rio organized a gun destruction event: 100,000 small arms that had been seized by the police were destroyed in a public ceremony.
The event demonstrated the widespread public support of the proposed gun ban legislation, and also drew attention to the July UN Conference on the Illicit Trade in Small Arms and Light Weapons in New York.

For more information contact: jessica (at) vivario.org.br

---
All Africa Conference of Churches launches the DOV
Under the auspices of the All Africa Conference of Churches (AACC), churches in Africa have launched the Decade to Overcome Violence; the launch took place during the AACC general committee meeting in Nairobi, Kenya from the 15-17 October 2001.

Addressing the meeting, AACC president Prof. Kwesi Dickson challenged churches in Africa to overcome violence. "Violence has greatly encroached on families and communities in our mother Africa," he observed.

World Student Christian Federation (WSCF) head Modetse Mfashwanayo stressed that the launch would be "a futile exercise without an effective way to monitor its progress". He also pointed out that the elimination of poverty, ignorance and disease would be a major focus for the DOV on the African continent.

From now on, the AACC newsletter Tam Tam will be focussing on overcoming violence-related issues.

For more information contact: aacc (at) maf.org

---
Sierra Leone joins the "Peace to the City" network
Sierra Leone's capital city, Freetown, joined other troubled cities around the world where creative peace-building work is going on. Freetown became a partner in the World Council of Churches' Decade to Overcome Violence global ecumenical peace network.
Freetown joined the "Peace to the City" network on 16 October 2001, through the Council of Churches in Sierra Leone's (CCSL) work on small arms and light weapons. The "Peace to the City" campaign began in 1996 with seven cities around the world joining as symbolic partners. The main aim was to focus the churches' attention on overcoming violence and achieving peace. Freetown became the third African city to join the campaign after the cities of Durban in South Africa and Yaoundé in Cameroon.

For more information contact: ccsl (at) sierratel.sl

---
Calendar of Envents
AFRICA

DOV Launch

DOV Launch-Southern Africa

Burundi

Luanda, Angola

15 December 2001

8-12 May 2002

Juvénal Ntakarashira
National Council of Churches of
Burundi
Bujumbura, Burundi
Tel: +257 22 79 41
Email: cneb (at) cbinf.com

David Modiega
Box 355, Gabarone
Botswana
Tel: (+267) 35.19.81
Fax: (+267) 35.19.81
Email: djmodiega (at) botsnet.bw

Consultation on Small Arms and Light Weapons in West Africa

Freetown, Sierra Leone

to be announced (2002)

Council of Churches in Sierra Leone
P.O.Box 404
Freetown, Sierra Leone
Tel: (+232-22) 24.05.68/ 24.05.54
Fax: (+232-22) 24.11.09
Email: ccsl (at) sierratel.sl
ASIA

DOV Consultation on Dealing with Identities

India

25-27 November 2001

Christian Conference of Asia
Tel: +852 26 91 10 68
Email: cca (at) cca.org.hk
EUROPE

Study on Ethnic Identity, National Identity & the Unity of the Church

Theological Study on Anthropology

Belfast, Northern Ireland

to be announced

26 November-
2 December 2001

18-25 February 2002

Tom Best
WCC-Faith and Order
Tel: +41 22- 791 6335
Email: WCC Contact

Tom Best
WCC-Faith and Order
Tel: +41 22- 791 6335
Email: WCC Contact

DOV Launch-Geneva

Grundkurs: Einführung in Gewaltfreies Handeln

Centre Oecuménique de Meyrin

to be announced

20 January 2002

25-27 January 2002

Christian van den Heuvel
Rue de la Laiterie 4
1254 Jussy
Switzerland
Tel: (+41-22) 759. 14. 44
Email: cvandenh (at) protestant.ch

Rainer Stiehl
Oekumenischer Dienst
Schalomdiakonat
Mittelstr. 4, D-34474
Diemelstadt-Wethen
Tel:(+49)5694 8033
Fax: (+49) 5694 1532
Email:
rainer.stiehl@
schalomdiakonat.de
NORTH AMERICA

"A Walk for Healing and Peace":
A Pilgrimage from Washington DC-New York City

Washington DC/New York City

November 25 - December 4 2001

National Coalition for Peace
Tel: (+1) 646. 208. 20.98
Email: dc2nywalk (at) yahoo.com
CARRIBBEAN

PACIFIC

DOV Launch in Jamaica

DOV Launch - Pacific

to be announced

to be announced

27 November 2001

2002

Caribbean Conference of Churches
Bridgetown, Barbados
Tel:
(+1-246) 427. 26. 81
E-mail: cccbdos (at) ndlc.com

Rev. Valamotu Palu
P.O.Box 208, Suva, Fiji
Tel: (+679) 31.12.77
Fax: (+679) 30.32.05
---
Resources on overcoming violence
Beyond Impunity: An Ecumenical Approach to Truth, Justice and Reconciliation
By Geneviève Jacques, 2001
WCC Publications - Tel: (+41-22) 791 6379
Price: Sfr. 9.90, US$6.50, £3.95, Euro 6.50
Available in English, French and Spanish


Communication and Reconciliation: Challenges Facing the 21st Century
Edited by Philip Lee, 2001
Published in by WCC in cooperation with WACC, London, UK
Tel: (+41-22) 791 6379
Price: Sfr. 15.00, US$9.95, £6.50, Euro 9.95
Available in English



Ethnic Conflict and Religion: Challenge to the Churches
By Theo Tschuy, 1997
WCC Publications
Tel: (+41-22) 791 6379
Price: Sfr.21.50, US$14.50,£9.50, Euro 13.90
Available in English and Spanish


Crosspoints Newsletter, May 2001
Published by the National Council of Churches in Sri Lanka
Tel: (+94-1) 67.17.22/ 69. 67. 01
To order email the editor: nccsl (at) eureka.lk

---
What is new on the Website?
Behind the News: Visions for Peace - Voices of Faith:
is an online effort that provides church, ecumenical and inter-faith information, resources and analysis on issues of current global concern
www.wcc-coe.org/wcc/behindthenews


Visit the newly updated Peace to the City website and join the discussion boards based on the Seven-Point Peace Plan. The discussions are only in English, but the translations into French, Spanish and German will soon be available.
For any events, courses and books related to DOV you would like to include in the calendar or resource list, please email us: DOV or WCC Contact
---
Visit DOV's website!
You will find an introduction to the DOV vision and mandate, a DOV prayer, and an explanation of the logo. There are stories and photos about people and groups around the world on what they are doing to overcome violence, links to the "Peace to the City" network website and to a growing list of the websites of other local, national and international peace movements. And there is a calendar of DOV-related events and an online form that you can use to let us know what you are doing to overcome violence-so we can share your story with others.

http://www.overcomingviolence.org (English)
http://www.vaincrelaviolence.org (French)
http://www.gewaltueberwinden.org (German)
http://www.superarlaviolencia.org (Spanish)
---
Overcoming Violence
Shares information from member churches and civil society on issues related to the Decade and the struggle against violence. You are urged to send in your contributions, not only on how we can improve our future publications but also on issues which are of prime concern to your region/country.

Overcoming Violence is published four times a year and distributed freely (also available in French, German and Spanish).


Produced by:
WCC Public Information Team


Editorial Team:
Diana Mavunduse (DOV Communicator)
Karin Achtelstetter
Miriam Reidy-Prost
Sara Speicher
Laura Short


For further information write to:

Overcoming Violence
WCC Communication
P.O.BOX 2100
1211 Geneva 2
Switzerland

Telephone:
(++ 41-22) 791 6111

General Fax:
(++ 41-22) 791 0361

Communication Fax:
(++ 41-22) 798 1346

Website: http://www.wcc-coe.org

Material can be reproduced freely: please credit the WCC

Design: Marie Arnaud Snakkers
Web Design: Cécile Requedaz
Printed in Switzerland
© WCC